CLASS NAME: Aral
CLASS TYPE: Blockade Runner
GOVERNMENT: Orion

Port
view

Dorsal
view

Bow
view
BRAD'S COMMENTS: An Orion Blockade Runner submitted by super-scanner Ed McCarthy, from the beloved but defunct Stardate magazine. The Aral is lighter than the Swift Solaria and roughly equal to the Lightning, at least in terms of armament, superstructure, and power production. Stardate text indicates that the Aral is not really a class as much as it is a unique ship representative of a whole host of similar ships, each individually constructed and operated by various private interests. Still, even if there is no official Aral class in FASA Trek, so long as the ship remains representative of a group, I list it here as the ship of the line. Again, many thanks to Ed for taking the time and trouble to scan this ship; especially since I had previously received a much poorer-quality scan in 2004 which I had unsuccessfully formatted for the MU&A. Ed's work allowed me to pick up this class again and make it pretty. Gracias, Ed!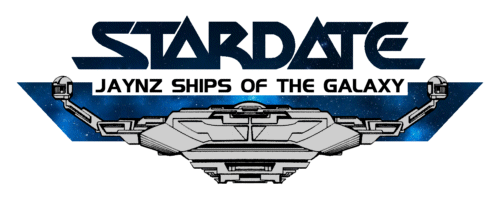 From STARDATE MAGAZINE, December 1985, courtesy of contributor Ed McCarthy
Class design by David Miles and Dale L. Kemper
Aral Class Blockade Runner
NOTES: The Aral is typical of the hundreds of independent Orion vessels used by various smugglers and privateers in and around the Orion Neutrality Zone. Constructed of mostly prefabricated parts shipped from various locations or stripped from derelicts and captured vessels, she is simple to operate, if not pretty to look at.
The Aral is allegedly part of the fleet of an independent band of privateers who raid the spacelanes usually in groups of three to six ships. Most are as lightly armed us is the Aral but their preponderance of numbers usually tells is a battle against convoys or armed merchantmen.
Like most vessels of her type, the Aral is a one at a kind vessel, although she has many near-sister ships in the 20,000 to 30,000 ton range who conduct the same type of business as she does.
Construction Data:
Model Numbers-
Ship Class-
Date Entering Service-
Number Constructed

MK II
III
1/9902
1 (?)
Hull Data:
Superstructure Points-
Damage Chart-
Size
Length-
Width-
Height-
Weight-
Cargo
Cargo Units-
Cargo Capacity-
Landing Capability-

16
C

110 meters
34 meters
32 meters
25,000 tons

500 units
25,000 tons
none
Equipment Data:
Control Computer Type-
Transporters-
Standard 6-person-
Cargo-

unknown

1
1
Other Data:
Crew-
Passengers-
Shuttlecraft-

28
unknown
none
Engines and Power Data:
Total Power Units Available-
Movement Point Ratio-
Warp Engine Type-
Number-
Power Units Available-
Stress Charts-
Maximum Safe Cruising Speed-
unloaded-
loaded-
Emergency Speed-
unloaded-
loaded-
Impulse Engine Type-
Power Units Available-

31
2/1
FWB
2
14
M/O

Warp 8
Warp 6

Warp 9
Warp 7
OIB-1
3
Weapons and Firing Data:
Beam Weapon Type-
Number-
Firing Arcs-
Firing Chart-
Maximum Power-
Damage Modifiers
+1

KD-3
6 in two banks
3f, 3a
I
5

(1 - 12)
Shields Data:
Deflector Shield Type-
Shield Point Ratio-
Maximum Shield Power-

OSE
1/2
6
Defense Factor-
Weapon Damage Factor-
unknown
unknown