slight improvement on the V-1 stats, the V-2 stats are almost up to snuff when compared to the Anton or D-7C cruisers. The Type 5 equipped with plasma weapon is especially good when matched with Antons or D7's, though the superstructure is still a few points shy of where it ought to be. I have found that mixing V-2's among V-1's and pitting them against a numerically inferior but technological superior force of Klingon or Federation ships can result in fun scenarios. The V-1 and V-2 cruisers drop like flies, but with a few lucky rolls of the dice the Romulan player has a decent chance of winning. Aesthetically, the V-1 doesn't enjoy much resemblance to anything in the Romulan inventory, either canon or FASA. During the 2007 re-draw I had a devil of a time reconciling the bow-on view with the other two views. I can see why the original bow-on view was left as a virtually blank half-circle. It took me over an hour, and lots of electronic erasing and starting anew, to get the bow-on to a point I would call acceptable. And even then, it was iffy.
--- Brad, STSTCSOLD&A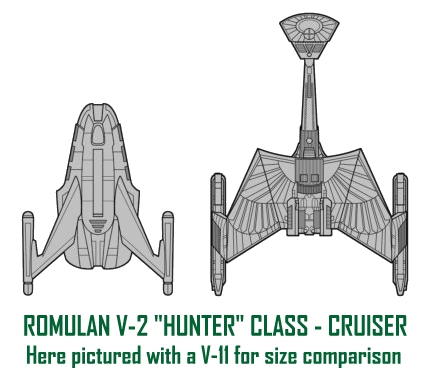 From the FASA Star Trek ROMULAN SHIP RECOGNITION MANUAL, circa 1985
V-2 (Hunter) Class VII Cruiser
Known Sphere Of Operation: Romulan interior
Data Reliability: F
Major Data Source: Project Grey Ghost data acquisition
The V-2 Class, first encountered by Project Grey Ghost, is believed to have been built for research missions, much like the Federation research cruisers are. Reportedly, spacious laboratory facilities and shuttlebays for cargo storage make this ship an oddity in the Romulan navy. Several recent combat encounters with the Klingons and forces to the coreward have proved the vessel to be undergunned and unsuitable for combat.
Several attempts were made to up-gun the ship, with the last being the introduction of the Type 5, approximately Stardate 2/00. This version is reported to carry a small plasma weapon and improved impulse drive system. Even so, the V-2 did not prove popular, and has been replaced by the V-5 and V-6 cruisers.
Of the approximately 70 Hunters built, about half are reported to be in reserve fleets and about 20 are reportedly working as research vessels for private firms. This vessel has not yet been scanned at close range, and plans given are highly speculative. The ship is named from the RomuIan hathos (hunter), likely in reference to its mission in the Exploration Division.