ot much different from the T-3, the T-5 is another fictional and fabricated Klingon vessel with a tad more power and a pad more protection than the T-3. As with most assault ships, the T-5 is great as "window dressing" for campaigns involving planetary invasion as part of their goal. Keep these ships out of harms way for as long as you can. With a superstructure this weak, it only takes one or two well-placed torpedo shots from a cruiser to destroy the T-5 outright. The one saving grace of this class, in my opnion, is the fact that the game designers (click here to see original graphic) did a decent amount of extrapolation from the classic "Klingon" look; wings, neck-and-pod, slung warp nacelles, and a predator-like appearance. Too bad this vessel type never made it beyond the pages of the ill-fated FASA manuals.
--- BRT, STSTCSOLD&A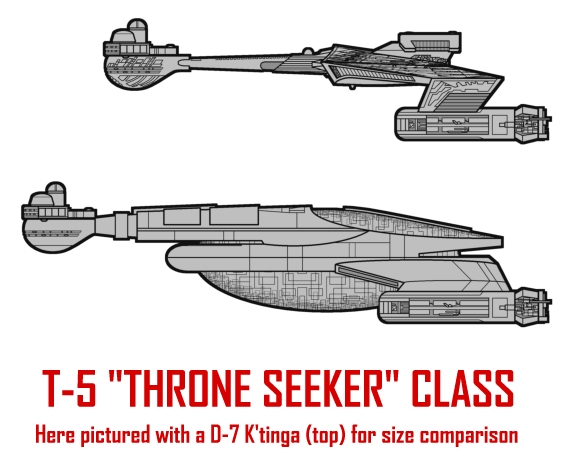 From the FASA Star Trek KLINGON SHIP RECOGNITION MANUAL, circa 1985
T-5 (Throne Seeker) Class VII Assault Ship
Known Sphere Of Operation: Conflict Zones
Data Reliability: B
Major Data Source: Klingon Sector Intelligence
The T-5 is capable of beaming down 292 troops, 8 light support vehicles and 2 tanks every 2 minutes. In less than 10 minutes, 1,400 troops, 32 light support vehicles, and 8 tanks can be placed on the ground ready to attack. Of the 343 built, 21 T-5A's and 253 T-5B's remain in active service. Four T-5's are in reserve fleets, and 47 have been destroyed. Fourteen T-5A's and four T-58's have been sold to the civil sector. 120 A models have been converted to 8 models. T-5's, named from the Klingon "mas to gal", are being manufactured at Fonawl and Mustaka, where 14 per year of the combined types are produced.