he first of many, many, many bogus Klingon ship designs postulated by the gang at FASA back in the mid 1980's. As has been stated before, the biggest crime committed by the Trek franchise has been to disown a great portion of the written material produced for the Trek universe. "If it 'aint on the screen, it don't mean a thing!" is the motto of the day with Star Trek, and the T-3 is yet another hapless victim of that philosophy.
Never seen in any Trek episode or movie, the T-3 is pure fiction on the part of writer Forest G. Brown and artist Dana Knutson. I give them credit for trying as hard as they could to emulate the Klingon designs available to them in 1985. At that time, the vast majority of Klingon lore and history had yet to be fleshed out. ST:TNG was still a pipe dream. The movies had produced exactly TWO Klingon vessels: The Bird Of Prey from Star Trek III, and the revamped D7 that was shown in the opening sequences of ST:TMP and Star Trek II. From these two vessels Knutson and Brown had to extrapolate an entire navy of Klingon ships!
Oh yes, for those of you who think a personnel-carrying assault ship is a lame idea, I suggest you think again. Too many Trek fans get myopically obsessed with cruisers/battlecruisers, believing that such warships are the only kind of ship you need to make up a fleet. Well as any mediocre military historian can tell you, it takes all kinds of craft to make a modern sea navy. So it could/should be with a space fleet.
The T-3 Mover (click here for original artwork) is an attempt to design a spaceborne 'landing craft' capable of hauling soldiers up to the planetary 'beaches' and disgorging them onto the surface where battle awaits. From a tactical standpoint, this is a great idea. In any real space war, taking over planets can't be done from orbit. Men with guns have to go down and do the dirty work. And you need ships to tote those men and their guns. And tanks. And APC's. etc. etc.
Sadly, the T-3 is a wretched piece of work in terms of the STSTCS itself. Underpowered, undergunned, and slow, it's only effective when pitted against other assault ships, or the various monitors and cutters of the Federation and Romulan Empire. Pitted against larger cruisers and frigates, the T-3 is a sitting duck. Even if massed in groups, they don't add up to much. No wonder F.G. Brown did not waste much effort on writing up a detailed history on this ship.
--- Brad, STSTCSOLD&A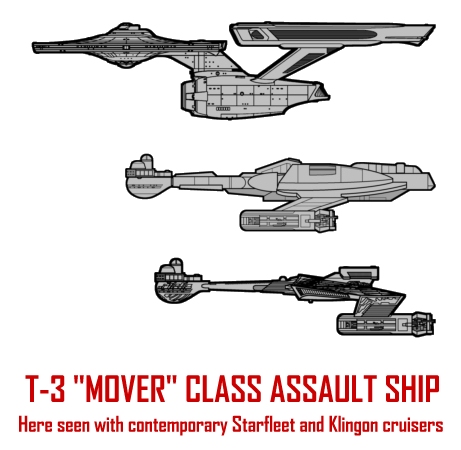 From the FASA Star Trek KLINGON SHIP RECOGNITION MANUAL, circa 1985
T-3 (Mover) Class VI Assault Ship
Known Sphere Of Operation: conflict zones
Data Reliability: B
Major Data Source: Klingon Sector Intelligence.
The T-3 is no longer in production. Of the 480 built, 286 remain in active service, 24 are in reserve fleets, 112 have been destroyed, 5 have been scrapped, and 53 have been sold to the civil sector.
The class is named from the Klingon d'aka, an obvious reference to its function.