he third and final Klingon assault ship design from Knuston and Brown. It is perhaps the most radical departure from the typical Klingon design philosophy in the entire book. On the original drawing, only the placement of the standard-model Klingon warp nacelles gives any clue that this is a Klingon ship. Likewise, you have to really look hard at those engines to tell the ship's bow from her stern! Like the T-3 and the T-5, the T-12 is pure fiction and not part of the accepted Trek universe, as dictated by M. Okuda in his various Trek manuals. Nevertheless, it is kind of fun to imagine what a novel design like this would have looked like up on the big screen or even on television. In game play, the T-13 is similar to other assault ships: underpowered and undergunned. But she is much better off than her smaller cousins, the T-3 and T-5, and can hold her own against older cruiser designs NOT equipped with photon torpedo weaponry. As was suggested with the T-5, use the T-12 as window dressing during games that require taking over a planet as part of their primary goal. Or if you're the daring kind, pit a small group of T-12's against a battle force of older cruisers and/or frigates and see if you can't make strategy your primary weapon.
2007 UPDATE: as part of a long-term project, I re-drew this class in Paint Shop Pro, using the FASA length of 300 meters for my benchmark. That puts the T-12 on a level field with the Constitution Refit, in terms of size, and makes it much larger than the D-7/K'tinga class cruisers. During the re-draw I decided to correct a long-standing problem I have had with this class, in that it originally did not have a discernible bridge or typical Klingon-style command pod, in either the dorsal or port-on views. The original bow-on view, however, did suggest something like a command pod, if you look closely. So I plugged in the ubiquitous D-7 style command pod, in addition to ironing out some discrepancies between the port-on and dorsal views. I also took the liberty of equipping the T-12 with something none of the other Klingon assault ships and troop transports have: a torpedo!
--- Brad, STSTCSOLD&A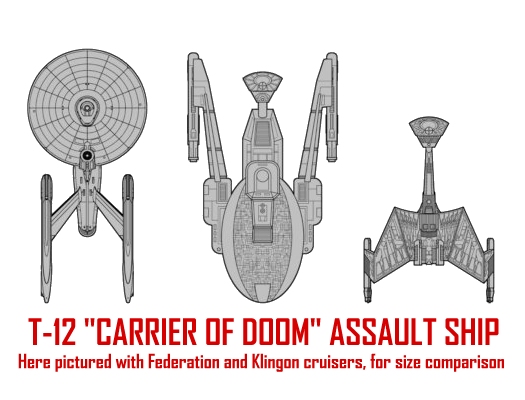 From the FASA Star Trek KLINGON SHIP RECOGNITION MANUAL, circa 1985
T-12 (Carrier of Doom) Class IX-X Assault Ship
Known Sphere Of Operation: conflict zones
Data Reliability: B
Major Data Source: Klingon Sector Intelligence.
The T-12 is the largest assault ship in the Klingon Navy. With the capability of putting its entire contingent of troops and vehicles on the ground in less than 15 minutes, this vessel is one of the most respected in known space. Its ability to beam down a total of 2,400 troops, 56 light support vehicles, and 28 heavy tanks in such a short period of time makes it very difficult for any enemy to repel this force. In most assault operations, these ships are used in groups of 3, the number of groups depending on the complexity of the operation.
The largest number of these vessels used in a single operation was on Stardate 2/2003 when the Klingons invaded and captured Mrzicann, a small world outside the Organiaan Treaty Zone. In this campaign, 24 T-12's beamed their troops and material onto the planet's surface with such speed and precision that the defenders were compelled to surrender in less than twelve hours. Mrzicann's standing army of 800,000 troops was overwhelmed by the element of surprise and, in most cases, gave up without any fight. The prevent a repeat of this occurrence, Star Fleet has stepped up its monitoring of these vessels, keeping track of their location and movements.
The T-12 is capable of traveling at a sustained speed of Warp 7, allowing it to be an integral part of any invading force. Due to the nature of its mission, the T-12 has better engine shielding than most Klingon vessels. This added shielding protects the troops from being overexposed to the radiation emitted by the warp and impulse systems.
These vessels carry an impressive array of eight disruptors, and so it would seem that these ships could stand and fight with most any warship. On closer examination, however, the range limitations of the KD-11 make it obvious that the weapons are only for close-in support.
Of the 102 T-12's built, 88 remain in active service, 2 are used by the Imperial Marine Training Command, and 12 have been destroyed. The T-12 is produced at Fonawl, Iosia, and Mustaka, with a combined production rate of 14 per year.
The class is named from the Klingon na ra'den, a typical reference to the strike force it can deliver so rapidly.