CLASS NAME: K-26
CLASS TYPE: Escort
GOVERNMENT: Klingon Empire

Port
view

Dorsal
view

Bow
view
BRAD'S COMMENTS: A different-looking (for Klingons, anyway) escort from the first edition of the FASA ship rec manuals, kindly scanned and submitted by Ed McCarthy. Like everything with Ed's name attached to it, I have to give him a lot of thanks here for the tremendous effort he put into sending me so much quality material. Ed, I am sure the other fans appreciate it! Extracting this class from its original format was pretty rough. The original rec manuals were a light-on-dark affair, which ships drawn in raster-like line art style. I had to carefully adjust the brightness and contrast settings via Paint Shop Pro (a terrific graphics program if there ever was one IMHO) and then invert the color scheme (negative image) followed by greyscaling the entire thing, with a final, painstaking cleanup. It took over an hour, but thanks to the miracle of laptops and modern software, I was able to get it all done on the lengthy commute bus ride back home after work one evening. All in all, things turned out pretty good, considering where they started. My only real beef is that the original rec manuals were splotchy in there stats and offer little backstory. So what you see is what you get, though I've tried to fill in a few holes based on equipment data from the ship construction manual, 2nd ed.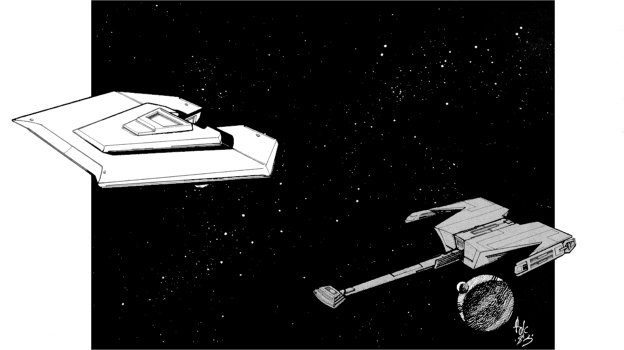 From the FASA Star Trek KLINGON SHIP RECOGNITION MANUAL, FIRST EDITION
K-26 (unknown name) Class VI Escort
NOTES: A radical departure from usual Klingon designs, the new K-26 has been encountered only infrequently, leading Starfleet Intelligence to believe that it is not deployed in large numbers. Rumors and intercepted messages lead to the conclusion that the Klingon High Command is not happy with the performance of the K-26 in field trials. Thus, it may never be extensively produced or deployed.
Construction Data:
Model Numbers-
Ship Class-
Date Entering Service-
Number Constructed

A
VI
unknown
unknown
Hull Data:
Superstructure Points-
Damage Chart-
Size
Length-
Width-
Height-
Weight-
Cargo
Cargo Units-
Cargo Capacity-
Landing Capability-

12
B

97.62 meters
100 meters
23.82 meters
77,000 tons

unknown
unknown
Yes (assumed)
Equipment Data:
Control Computer Type-
Transporters-
Cloaking Device Type-

unknown
unknown
none
Other Data:
Crew-
Passengers-
Shuttlecraft-

160
unknown
4
Engines and Power Data:
Total Power Units Available-
Movement Point Ratio-
Warp Engine Type-
Number-
Power Units Available-
Stress Charts-
Maximum Safe Cruising Speed-
Emergency Speed-
Impulse Engine Type-
Power Units Available-

38
3/1
KWB-3
2
13
L/O
Warp 8
Warp 9
KIE-2
12
Weapons and Firing Data:
Beam Weapon Type-
Number-
Firing Arcs-
Firing Chart-
Maximum Power-
Damage Modifiers
+2

KD-6
4
1f/p, 1f/s, 1p/a, 1s/a
T
6

(1 - 18)
Shields Data:
Deflector Shield Type-
Shield Point Ratio-
Maximum Shield Power-

KSF
2/3
10
Defense Factor-
Weapon Damage Factor-
unknown
unknown