CLASS NAME: K-15 "Unseen Creeper"
CLASS TYPE: Scout
GOVERNMENT: Klingon Empire

Port
view

Dorsal
view

Bow
view
BRAD'S COMMENTS: One of the better Klingon scouts, the F model of the K-15 is right up there with the "Bird of Prey" in terms of survivability in battle. Superstructure is good for a ship this small, and the power output to weapons ratio is good. As with the Pathmaker class ships, the K-15 can sometimes operate as a poor man's destroyer against underpowered older Federation and Romulan vessels.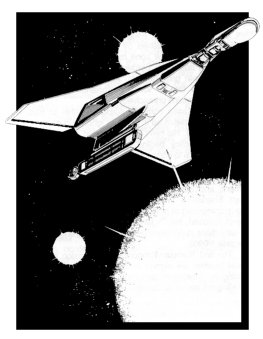 From the FASA Star Trek KLINGON SHIP RECOGNITION MANUAL, circa 1985
K-15 (Unseen Creeper) Class IV - V Scout
Known Sphere Of Operation: Empire-wide use, frequently operates in Spinward frontiers and the Triangle
Data Reliability: A for K-15A; C for K-15D, K-15E
Major Data Source: K-15A in Star Fleet possession; Klingon Sector Intelligence, Triangle Sector Intelligence
The K-15 is the most likely Klingon scout vessel to be encountered anywhere in known space. Only the K-15D and K-15F models are in service at present, but newer models could appear at any time, as the design is well accepted by both officers and crew.
Of the 391 K-15s built, 196 Ds and 92 Fs remain in active service, 1 each are used as training vessels, 21 As, 19 Ds, and 14 Fs have been destroyed, 2As each have been captured by Star Fleet and the Romulans, 3 As, 14 Ds, and 9 Fs are listed as missing, 5 As and 2 Ds were traded to the Romulans, 2 Ds have been sold to private interests in the Triangle, 1 D has been sold to the Orions, and 3 Ds and 4 Fs have been sold to prominent families with the Empire. The K-15 is being produced at the Taamar and Gnuu Re' facilities. Combined annual production is 15 of each type.
The class name is a reference to the Klingon l'rexa, which translates to 'slowly and unseen'.
Construction Data:
Model Numbers-
Ship Class-
Date Entering Service-
Number Constructed

A
IV
2/0307-1202
91

D
V
2/1101
238

F
V
2/1505
120
Hull Data:
Superstructure Points-
Damage Chart-
Size
Length-
Width-
Height-
Weight-
Cargo
Cargo Units-
Cargo Capacity-
Landing Capability-

7
B

155 meters
100 meters
50 meters
39,100 tons

20 units
1,000 tons
Yes

8
B

155 meters
110 meters
50 meters
41,100 tons

30 units
1,500 tons
Yes

10
B

155 meters
110 meters
50 meters
46,300 tons

30 units
1,500 tons
Yes
Equipment Data:
Control Computer Type-
Transporters-
Standard 6-person-
Emergency 18-person-
cargo-
Cloaking Device Type-
Power Requirement-

ZD-3

1
None
1
None
None

ZD-4

1
None
1
None
None

ZD-4

1
None
1
None
None
Other Data:
Crew-
Passengers-
Shuttlecraft-

120
2
none

124
2
none

126
2
none
Engines and Power Data:
Total Power Units Available-
Movement Point Ratio-
Warp Engine Type-
Number-
Power Units Available-
Stress Charts-
Maximum Safe Cruising Speed-
Emergency Speed-
Impulse Engine Type-
Power Units Available-

16
2/1
KWC-1
1
14
K/N
Warp 7
Warp 8
KIC-1
2

20
2/1
KWC-2
1
18
L/N
Warp 7
Warp 8
KIC-1
2

25
2/1
KWC-3
1
22
L/M
Warp 7
Warp 8
KIB-1
3
Weapons and Firing Data:
Beam Weapon Type-
Number-
Firing Arcs-
Firing Chart-
Maximum Power-
Damage Modifiers
+3
+2
+1
Missile Weapon Type-
Number-
Firing Arcs-
Firing Chart-
Power To Arm-
Damage-

KD-3
4
2f, 1a/p, 1a/s
I
5



(1 - 12)







KD-3
4
2f, 1a/p, 1a/s
I
5



(1 - 12)







KD-7
4
2f, 1a/p, 1a/s
L
7


(1 - 6)
(7 - 12)
KP-2
1
F
H
1
10
Shields Data:
Deflector Shield Type-
Shield Point Ratio-
Maximum Shield Power-

KSI
1/1
14

KSJ
2/3
14

KSJ
2/3
14
Defense Factor-
Weapon Damage Factor-
41.5
10.8
53.4
10.8
60.8
18.5