CLASS NAME: D-20 "Death Rite"
CLASS TYPE: Cruiser
GOVERNMENT: Klingon Empire

Port
view

Dorsal
view

Bow
view
CLICK BELOW TO SEE LARGER VIEWS!
Port view Dorsal view Bow view
BRAD'S COMMENTS: Aesthetically, I like the looks of this ship very much. Like so many Klingon ships, it has the warp nacelles mounted on the wings, a long neck, and the traditional Klingon command pod. This ship is even featured in the cutaway color painting on the cover of the Klingon Ship Recognition Manual, which is pretty surprising considering that the D-7 cruiser is far more recognizable to fans.
In game play, the D-20 is frustrating if only because none of the three official versions mount any torpedo weaponry! Sans the punch of torpedoes this ship is only good when used in numbers, or head-to-head against other ships also lacking torpedoes. Thus, when I did my re-draw in 2007, I decided to give the class a new model, in addition to a refreshed look, with a single torpedo mounted in the forward arc. I think a torp gives this class much greater versatility in game play, and makes it a lot more fun!
I hope the new look also works for fans and gamers. I tried to stick to the original as much as possible, mostly because there was nothing terribly amiss with the original, save for component scalar problems. Like the D-9, my D-20 has a larger command pod than originally shown on the FASA version, if only so that the command pod--the one item that is most ubiquitous within the Klingon fleet--remains to scale with that of the D-7 K'tinga.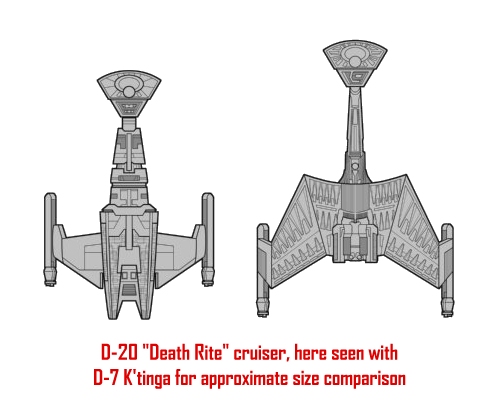 From the FASA Star Trek KLINGON SHIP RECOGNITION MANUAL, circa 1985
D-20 (Death Rite) Class VII Cruiser
Known Sphere Of Operation: Empire-wide use
Data Reliability: C
Major Data Source: Klingon Sector Intelligence
The D-20 was commissioned on Stardate 1/9606 and immediately rushed into the Four Years War, where they were used much like the famed D-7. Though the class suffered from lack of maneuver power and a relatively weak superstructure, it seemed to make up-for these deficiencies in its weapons, and shielding. Mounting the KWC-1 engines, the D-20A was able to attain higher warp speeds than the D-7, but was less maneuverable. Eighty-six have been converted to the D-20C.
This fault was corrected with the introduction of the D- 20C on Stardate2/1202. This model is far more maneuverable and has more power, as well as a more efficient shielding system and stronger superstructure. Because of its extra power, KD-6 disruptors were added, increasing firepower by 50%. This model is still in production even though the D-20D has entered service on Stardate 2/1701, mounting KD-8 disruptors, which deliver 16% more destructive power over a greater distance.
Of the 634 D-20s built, 224 Cs and 80 Ds remain in active service; 292 As, 19 Cs, and 1 D have been destroyed; 2 As, 4 Cs, and 1 D are listed as missing; 1 C and 1 D have been scrapped; and 2 As, 28 Cs, and 4 Ds are in the service of ranking and prominent families of the Empire. The class is being produced at Gnuu Re' and at H'rez. These facilities were originally set up to refit A models to C models, but when orders were issued for the production of the D model, Imperial Command redesignated both bases as production facilities. They began producing new ships as soon as the last of the older models had been refit. Both facilities combined produce a total of 13 ships per year.
The class is named from "the death of honor", a traditional death rite involving a silver dagger. In this rite, a captive who has fought well is killed with a silver dagger handed down through the family lines. When a family line is broken, the dagger is destroyed after it has been used to eliminate the last family member.
click here for print-friendly .pdf version of this web page (includes game pieces!)
Construction Data:
Model Numbers-
Ship Class-
Date Entering Service-
Number Constructed

A
VII
1/9606-2/1603
382

C
VII
2/1202
271

D
VII
2/1701
87

E *
VII
unknown
unknown
Hull Data:
Superstructure Points-
Damage Chart-
Size
Length-
Width-
Height-
Weight-
Cargo
Cargo Units-
Cargo Capacity-
Landing Capability-

16
C

160 meters
110 meters
22 meters
85,400 tons

200 units
10,000 tons
None

18
C

160 meters
110 meters
24 meters
91,300 tons

200 units
10,000 tons
None

20
C

160 meters
110 meters
24 meters
95,600 tons

200 units
10,000 tons
None

22
C

160 meters
110 meters
24 meters
99,850 tons

200 units
10,000 tons
None
Equipment Data:
Control Computer Type-
Transporters-
Standard 6-person-
Combat 22-person-
Emergency 18-person-
cargo-
Cloaking Device Type-
Power Requirement-

ZD-5

3
4
1
2
None
None

ZD-6

3
4
1
2
None
None

ZD-6

3
4
1
2
None
None

ZD-6

3
4
1
2
None
None
Other Data:
Crew-
Troops-
Shuttlecraft-

330
180
4

340
200
4

340
200
4

357
200
4
Engines and Power Data:
Total Power Units Available-
Movement Point Ratio-
Warp Engine Type-
Number-
Power Units Available-
Stress Charts-
Maximum Safe Cruising Speed-
Emergency Speed-
Impulse Engine Type-
Power Units Available-

32
4/1
KWC-1
2
14
L/O
Warp 7
Warp 8
KIC-2
4

40
3/1
KWC-2
2
18
L/O
Warp 8
Warp 9
KIC-2
4

40
3/1
KWC-2
2
18
L/O
Warp 8
Warp 9
KIC-2
4

40
3/1
KWC-2
2
18
L/O
Warp 8
Warp 9
KIC-2
4
Weapons and Firing Data:
Beam Weapon Type-
Number-
Firing Arcs-
Firing Chart-
Maximum Power-
Damage Modifiers
+3
+2
+1
Missile Weapon Type-
Number-
Firing Arcs-
Firing Chart-
Power To Arm-
Damage-

KD-5
6
2f/p, 1f, 2f/s, 1a
P
4


(1 - 10)
(11 - 18)

KD-6
6
2f/p, 1f, 2f/s, 1a
T
6


(1 - 18)


KD-8
6
2f/p, 1f, 2f/s, 1a
U
7

(1 - 7)
(8 - 15)
(16 - 20)

KD-8
6
2f/p, 1f, 2f/s, 1a
U
7

(1 - 7)
(8 - 15)
(16 - 20)
KP-10
1
1f
Q
1
15
Shields Data:
Deflector Shield Type-
Shield Point Ratio-
Maximum Shield Power-

KSF
2/3
9

KSK
1/2
12

KSO
1/2
15

KSO
1/2
15
Defense Factor-
Weapon Damage Factor-
52.9
18.6
85.7
30.6
86.6
34.2
unknown
unknown
* Denotes completely hypothetical model number and stats, devised by Brad R. Torgersen.