CLASS NAME: Ticonderoga
CLASS TYPE: Light Cruiser
GOVERNMENT: United Federation of Planets

Port
view

Dorsal
view

Bow
view
CLICK BELOW TO SEE LARGER VIEWS!
Port view Dorsal view Bow view
BRAD'S COMMENTS: Another Jaynz vessel from Gary Perry, also submitted by Chris McDonough. Due to the reduced quality of the original scan that I got, I went ahead and re-drew the class, making artistic changes as I saw fit: adding impulse decks to the port and starboard rear quarters of the saucer, enhancing the aft shuttle bay doors, giving the secondary hull a flattened, more tubular appearance with greater detail, and shifting the warp nacelles aft a good percentage, so as not to occlude the ventral dome of the saucer and to give the bridge an unblocked view from the dorsal plane. The aft torpedo launcher is (I assume) still located beneath the shuttle bay, and cannot be seen. But the saucer phaser banks are more prominent, and the warp pylons don't hog so much room in the port plane. All in all, an improvement, if I do say so myself, as the original Ticonderoga was a bit odd.
It should also be noted that the backstory for this class makes two faux pas: it claims the Ticonderoga is the first Federation class to align dual warp nacelles vertically, instead of the traditional horizontal alignment made standard on the Constitution (this is clearly not the case, as the Wilkerson destroyer employs such a design feature) and it makes a reference to the 'revolution' in warp drive technology brought about by Transwarp Drive. Of course we all know that Transwarp was a dud.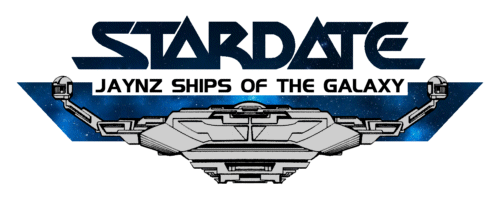 From STARDATE MAGAZINE, December 1985, courtesy of contributor Gary Perry
Class design by Matt Burke & Dale L. Kemper
Ticonderoga Class X Light Cruiser
NOTES: The Ticonderoga Class Light Cruiser is the newest class of vessels to come from the Federation assembly line. At present, only the Ticonderoga has been completed, with the construction of 24 more vessels to begin if and when she successfully completes her trials.
The Ticonderoga is the first Starfleet vessel with up and down warp nacelles, as opposed to the conventional side to side method of dual engines in the past. Great study and design experimentation has gone into this alignment, with a number of new theories in warp engineering occurring as well. Not until the evidence of improved performance (see the Orion Swift Solaria class) came about was this radical design ever seriously considered.
Tests have shown that through some still not understood principle of warp matter/antimatter balance a vessel using this engine configuration should attain greater speeds with more safety than a vessel using the standard configuration. Practical trials have only been conducted with vessels less than 40,000 tons but designers and warp engineers can find no reason why this advantage should not help larger ships as well. Ticonderoga has been built to make sure that this is indeed so.
If the class is a success, Starfleet intends to use the vessels for such tasks as escorts for important convoys, and pirate suppression. Finally, the privateers who prey on helpless shipping will come up against a vessel that can both outgun them and outrun them. This never-before-seen situation is looked upon with great expectation by many merchant corporations and far-flung frontier worlds.
The trials of the Ticonderoga are scheduled for later in this year. Only then will it be known for sure if the class will be a success or not. Regardless of the outcome, the Ticonderoga class may very well be the last major Starfleet vessel to be equipped with standard warp engines. The continuing tests of the new battleship Excelsior and her transwarp drive may make all other means of interstellar propulsion obsolete before the final ship of the Ticonderoga class is complete.
Construction Data:
Model Numbers-
Ship Class-
Date Entering Service-

MK I
X
2/2207
Hull Data:
Superstructure Points-
Damage Chart-
Size
Length-
Width-
Height-
Weight-
Cargo
Cargo Units-
Cargo Capacity-
Landing Capability-

20
C

243 meters
130 meters
69 meters
150,000 tons

300 units
15,000 tons
None
Equipment Data:
Control Computer Type-
Transporters-
Standard 6-person-
Combat 20-person-
Emergency 22-person-
cargo-

unknown

3
none
3
2
Other Data:
Crew-
Troops-
Passengers-
Shuttlecraft-

320
none
unknown
4 or 8
Engines and Power Data:
Total Power Units Available-
Movement Point Ratio-
Warp Engine Type-
Number-
Power Units Available-
Stress Charts-
Maximum Safe Cruising Speed-
Emergency Speed-
Impulse Engine Type-
Power Units Available-

48
2/1
FWC-?
2
22
O/M
Warp 8
Warp 9.9
FID-?
4
Weapons and Firing Data:
Beam Weapon Type-
Number-
Firing Arcs-
Firing Chart-
Maximum Power-
Damage Modifiers
+3
+2
+1
Missile Weapon Type-
Number-
Firing Arcs-
Firing Chart-
Power To Arm-
Damage-

FH-10
10 in five banks
4f/p, 2f, 4f/s
W
7

(1 - 10)
(11 - 17)
(18 - 20)
FP-5
1
Aft
W
1
16
Shields Data:
Deflector Shield Type-
Shield Point Ratio-
Maximum Shield Power-

FSO
1/3
16
Defense Factor-
Weapon Damage Factor-
?
?