CLASS NAME: Tangent
CLASS TYPE: Destroyer
GOVERNMENT: United Federation of Planets

Port
view

Dorsal
view

Bow
view
BRAD'S COMMENTS: One of many Jaynz gems scanned and sent by Garry Perry, this ship's stats were hard to decipher based on the grainy scan I was given. I hope I got it right. Anyone who has a better copy is welcome to check me, and let me know if I need to make any corrections. It's almost no different from a Baker destroyer, though the Tangent packs double the torpedoes, which is all good in my book as the Baker's torpedo load always did seem a tad flimsy to me. I like the design, too, though there are some puzzling anomalies. There is a forward-facing shuttle bay (no navigational deflector?) and the aft portion of the saucer section seems to have been greatly extended so that the entire saucer takes on a teardrop shape. The warp nacelles appear to be a truncated version of the standard TMP-era nacelles popular on so many FASA ships, and the secondary hull has a squashed, oblong quality to it. Also, there are only stats listed for a Mark II version, though the text indicates that a Mark I exists. As always, I am sorry the ship schematics are not crisp. I do the best I can with the graphics submitted to me; especially where Jaynz files are concerned!
COMMENT'S FROM THE ORIGINAL DESIGNER, Terry Atkins, March 16, 2004: Hi I did the history and arming on the tangent class destroyer and I thought you might want to know what I had intended. They bought my design history and changed it somewhat. The ship originally looked kind of like the Brenton. Anyway the following stats are the most acurate to what I originally sent: 115,218 tons, 2 FWE-2 warp engines + 1 FIF-2 impulse engine = 42 power units. 17 superstructure points. 6 FH-3 Fhasers in banks of two; 2f, 2f/p, 2f/s. Two FP-6 torpedoes in banks of one; 1f, 1a. The FSI shield system; 1/3 ratio, max power of 12. WDF = 48.2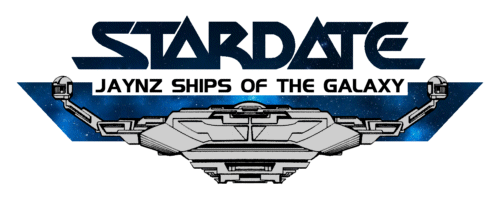 From STARDATE MAGAZINE, courtesy of contributor Gary Perry
Class design by Terry Atkins
Tangent Class IX Destroyer
NOTES: The Tangent Class frigate was originally designed to supplement the Loknar Class frigate, but Star Fleet's design commission determined that the latter's service life could be extended by major refitting. They were so impressed by the Tangent Class design, however, that they approved it for construction, intending that it take the border patrol duties of the Brenton Class cruisers as they entered their refitting schedule.
Using state-of-the-art technology, the Tangent Class has been equipped with firepower superior to its predecessors. Heavy phaser and photon torpedo armament aft make it a formidable opponent in a chase situation. Its single shuttle bay houses an armed warp-capable shuttle; the first time such a modified warp shuttle has been carried by another ship.
Its superstructure was reinforced, making it stronger than the Brenton Class, and its impulse engine was upgraded, giving the Tangent an excellent power base.
In answer to the increasingly powerful armaments found on both Romulan and Klingon warships, there have been reports that Star Fleet is planning to upgrade the Tangent's photon torpedo armament to the FP-6 for the Mark II ships in service and the ten Mark III vessels now under construction.
Construction Data:
Model Numbers-
Ship Class-
Date Entering Service-
Number Constructed

MK II
IX
2/2003
26
Hull Data:
Superstructure Points-
Damage Chart-
Size
Length-
Width-
Height-
Weight-
Cargo
Cargo Units-
Cargo Capacity-
Landing Capability-

29
C

290 meters
112 meters
59 meters
118,029 tons

300 units(?)
15,000 tons(?)
none
Equipment Data:
Control Computer Type-
Transporters-
Standard 6-person-
Emergency 22-person-
cargo small -
cargo large -

?

?
?
?
?
Other Data:
Crew-
Troops-
Passengers-
Shuttlecraft-

119
none
12
1
Engines and Power Data:
Total Power Units Available-
Movement Point Ratio-
Warp Engine Type-
Number-
Power Units Available-
Stress Charts-
Maximum Safe Cruising Speed-
Emergency Speed-
Impulse Engine Type-
Power Units Available-

38
3/1
FWE-2
2
13
G/K
Warp 7
Warp 9
FIF-1
12
Weapons and Firing Data:
Beam Weapon Type-
Number-
Firing Arcs-
Firing Chart-
Maximum Power-
Damage Modifiers
+3
+2
+1
Missile Weapon Type-
Number-
Firing Arcs-
Firing Chart-
Power To Arm-
Damage-

FH-8
6, in three banks
2f/p, 2f/s, 2a
T
5


(1 - 10)
(11 - 18)
FP-2
4
2f, 2a
H
1
6
Shields Data:
Deflector Shield Type-
Shield Point Ratio-
Maximum Shield Power-

FSH
1/2
12
Defense Factor-
Weapon Damage Factor-
?
?