CLASS NAME: Samson
CLASS TYPE: Warp Tender
GOVERNMENT: United Federation of Planets

Port
view

Dorsal
view

Bow
view
BRAD'S COMMENTS: Bernard Guignard originally sent me this class. I have recently re-scanned and edited the copy information, having obtained a copy of the Regula-1 Orbital Station Deckplans sourcebook in 2004. The copy is substantially different from Bernard's recognition manual and the sourcebook. I also took the liberty of re-drawing the schematics, based on the originals. The port and dorsal views no square with one another much more easily, and I made the towing/grappling mechanism much more robust, seeing as how the Samson will be towing objects significantly larger, and of greater mass and volume, than itself.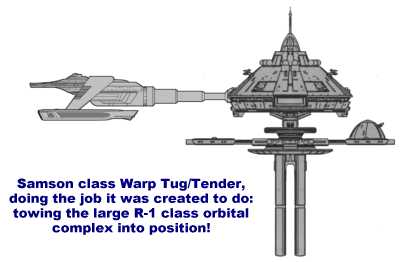 from the FASA Star Trek RPG sourcebook #2226A: Regula-1 Orbital Station Deckplans
Samson Class X Tug/Tender
NOTES: Developed by a joint commercial venture between Rantura Shipping Lines and Chiokis Starship Construction, the Samson Class X warp tender is designed primarily to provide warp mobility to all R-1 Type stations. As it uses enormous amounts of power to tow even the lightest of the R-1s, the warp tender has no power to spare for weaponry and has only limited defensive capabilities. All these warp tenders operate out of star bases and are dispatched to an R-1 station only when the station must be moved. With the growing military tension between the Federation and the Klingon Empire, Starfleet is currently planning to upgrade the existing MK 1 design to a more powerful version.
Construction Data:
Model Numbers-
Ship Class-
Date Entering Service-
Number Constructed

MK I
X
2/0902
26
Hull Data:
Superstructure Points-
Damage Chart-
Size
Length-
Width-
Height-
Weight-
Cargo
Cargo Units-
Cargo Capacity-
Landing Capability-

20
B

200 meters
140 meters
60 meters
152,000 tons

none
none
none
Equipment Data:
Control Computer Type-
Transporters-
Standard 6-person-
Combat 20-person-
Emergency 22-person-
cargo small-
cargo large-

unknown

1
none
none
none
none
Other Data:
Crew-
Troops-
Shuttlecraft-

52
none
2
Engines and Power Data:
Total Power Units Available-
Movement Point Ratio-
Warp Engine Type-
Number-
Power Units Available-
Stress Charts-
Maximum Safe Cruising Speed-
Emergency Speed-
Impulse Engine Type-
Power Units Available-

44
4/1 unloaded, 8/1 loaded
FWF
2
20
G/L
Warp 6 unloaded, Warp 3 loaded
Warp 8 unloaded, Warp 5 loaded
FID
4
Weapons and Firing Data:
none!
Shields Data:
Deflector Shield Type-
Shield Point Ratio-
Maximum Shield Power-

FSB
1/2
6
Defense Factor-
Weapon Damage Factor-
unknown
none