CLASS NAME: S-Series
CLASS TYPE: Travel Pod / Repair Pod
GOVERNMENT: United Federation of Planets

Port
view

Dorsal
view

Bow
view
BRAD'S COMMENTS: Seen in both Star Trek: The Motion Picture and Star Trek II: The Wrath of Khan, the S-Series travel pod supposedly has landing capability--at least according to the FASA texts. I am hard-pressed to determine how such a diminutive craft could survive the stresses of re-entry, much less muster the thrust necessary to reach planetary orbit. Pragmatically, the travel pod is a space taxi, seen on-screen ferrying crew from orbital office and construction complexes to docking ports on the exterior hulls of moored starships. The S-Series also might be though of as a forerunner to the TNG-era Shuttle Pod, both in terms of size and in terms of relative mission capability. In gameplay, the S-Series is purely a companion piece to the R-1 series space stations and the larger orbital bases such as the Spacedock. The S-Series has no offensive weaponry and no superstructure to speak of, making it arguably the most vulnerable craft in the entire FASA gaming system.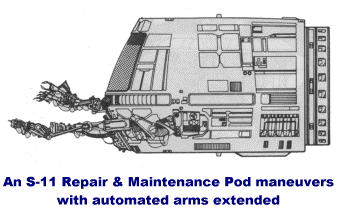 From the FASA Star Trek RPG sourcebook #2226A: Regula-1 Orbital Station Deckplans
S-Series Travel Pod
NOTES: Built from the original specifications of the S-10 travel pod, the S-11 repair pod is capable of effecting standard equipment repairs to exterior station systems and spacecraft. The S-11 comes in two types: manned or remotely operated. The latter variant lacks cargo capability because its additional computer systems take up the space previously dedicated to bulk storage.
The S-12 medical pod was developed for use aboard the R-1 Mercy orbital medical centers. Medics use it if beaming proves too hazardous for patients or wounded. The intensive care unit directly behind the pilot's seat can be set for low or zero-gravity conditions.
Construction Data:
Model Numbers-
Ship Class-
Date Entering Service-
Number Constructed

S-10
I
2/1201
5,000+

S-11 MK I
I
2/1201
1,700

S-11 MK II
I
2/1201
847

S-12
I
2/2007
158
Hull Data:
Superstructure Points-
Damage Chart-
Size
Length-
Width-
Height-
Weight-
Cargo
Cargo Units-
Cargo Capacity-
Landing Capability-

none
B

8 meters
5 meters
4 meters
6 tons

1 units
50 tons
yes

none
B

8 meters
5 meters
4 meters
6 tons

1 units
50 tons
yes

none
B

8 meters
5 meters
4 meters
6 tons

none
none
yes

none
B

8 meters
5 meters
4 meters
8 tons

none
none
yes
Equipment Data:
Control Computer Type-
Transporters-

L-12
none

L-12
none

L-12
none

L-12
none
Other Data:
Crew-
Passengers-

1
5

1
5

computer
operated

3
2 patients
Engines and Power Data:
Total Power Units Available-
Movement Point Ratio-
Warp Engine Type-
Impulse Engine Type-
Power Units Available-

1
1/1
none
FMIA
1

1
1/1
none
FMIA
1

1
1/1
none
FMIA
1

1
1/1
none
FMIA
1
Weapons and Firing Data:
none!
none!
none!
none!
Shields Data:
Navigational
shielding
only!
Navigational
shielding
only!
Navigational
shielding
only!
Navigational
shielding
only!
Defense Factor-
Weapon Damage Factor-
none
none
none
none
none
none
none
none