CLASS NAME: Overfield
CLASS TYPE: Freighter
GOVERNMENT: United Federation of Planets

Port
view

Dorsal
view

Bow
view
BRAD'S COMMENTS: As with the Laweya, I owe thanks to Neale Davidson and Ed McCarthy for this class; Ed for sending me the scans from the original manual, and Neale for creating the wonderful re-draw. Muchas gracias, fellas!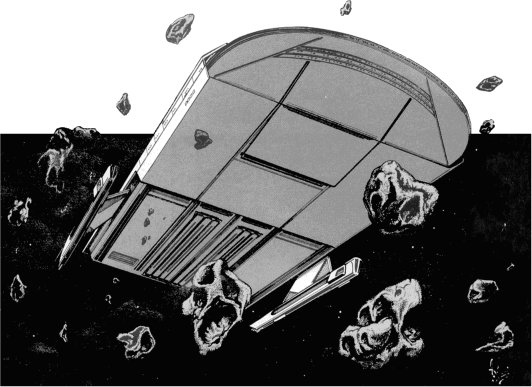 From the FASA Star Trek FEDERATION SHIP RECOGNITION MANUAL, First Edition, circa 1983
Overfield class X Freighter
NOTES: The OVERFIELD class freighter has many interior configurations. Its most common is as a normal cargo vessel, transporting containers. The vessel does have variants for carrying liquids and bulk items (such as grain). In these modes, she ship is fitted with special locks topside for the movement of the materials. The huge cargo area has specially designed movable partitions allowing for many interior configurations. The vessel can be pressed into service as a troop transport, albeit with not very comfortable living conditions. The observer will note the four airlocks on both sides of the ship on the lower surface of the forward hull. These are for docking cargo shuttles. Large elevators end conveyors move material so these inside the vessel, allowing for two centralized customs and paperwork stations.
Construction Data:
Model Numbers-
Ship Class-
Date Entering Service-
Number Constructed

MK I
X
unknown
unknown
Hull Data:
Superstructure Points-
Damage Chart-
Size
Length-
Width-
Height-
Weight-
Cargo
Cargo Units-
Cargo Capacity-
Landing Capability-

15
C

327.93 meters
195.91 meters
37.24 meters
145,000 tons

1,054
52,700 tons
no
Equipment Data:
Control Computer Type-
Transporters-
Standard 6-person-
Emergency 22-person-
cargo large-
cargo small-

unknown

2
None
4
4
Other Data:
Crew-
Passengers-
Shuttlecraft-

86
16
4 cargo, 1 passenger
Engines and Power Data:
Total Power Units Available-
Movement Point Ratio-
Warp Engine Type-
Number-
Power Units Available-
Stress Charts-
Maximum Safe Cruising Speed-
Emergency Speed-
Impulse Engine Type-
Power Units Available-

17
4/1
FWE
2
8
G/K
Warp 6
Warp 8
FIC
1
Weapons and Firing Data:
none
Shields Data:
Deflector Shield Type-
Shield Point Ratio-
Maximum Shield Power-

FSA
1/1
6
Defense Factor-
Weapon Damage Factor-
unknown
unknown