ike the majority of the ships in the UFP book, this one borrows much from the Enterprise (Constitution Refit) cruiser design, both in terms of the saucer section and in terms of the warp nacelles, as well as the overall primary/secondary hull configuration. In approaching a re-draw, I had to decide if I wanted to use these structural similarities as my reference point, or the actual (diminutive) stats as provided by FASA. Given the fact that the Makin is supposed to be carrying 1,800 troops, I reasoned that it was more realistic to scale the ship according to its borrowed parts. And so I took the saucer and nacelles from the Constellation class cruiser, thickened and widened the secondary hull by a significant degree, and otherwise added detail as I saw fit. Most notably a deflector array on the forward ventral portion of the secondary hull, where none existed before; and perhaps most interesting for gamers, a rearward-firing torpedo. None of the original FASA Federation assault ships carried torps, but when examining the stern section, I puzzled over what should go directly between the two aft-flowing sections of saucer; two sections I assumed to be homes for the impulse decks. So, for the sake of shaking things up a bit, I threw in the torp. Not a terribly heavy one, mind you, but something that gives this class a surprising punch if attacked from the rear. Overall, I think it works out well.
Since the re-draw was released, an interesting turn of events took place. Namely, the dorsal view of the re-drawn Makin seems to have been used in a tiny bit of on-set footage from one of the new (rebooted) Star Trek movies. It appears as a kitbash of the NX-01 Enterprise details, with the re-drawn Makin outline. I've linked to the schematic here; courtesy of a sharp-eyed fan who tied all the pieces together. Yup, I think the evidence is conclusive. So, in a very circuitous fashion, the Makin has a fresh footprint in Star Trek's convoluted canon.
--- Brad, STSTCSOLD&A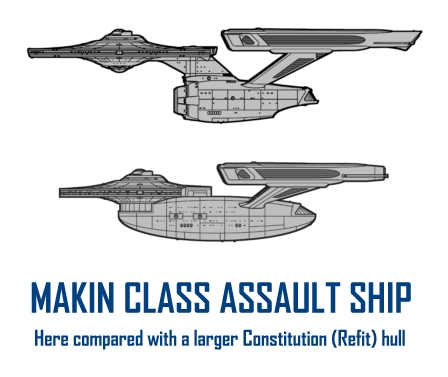 From the FASA Star Trek FEDERATION SHIP RECOGNITION MANUAL, circa 1985
Makin Class VIII-IX Assault Ship
Notes: The Makin Class assault ship can beam down its compliment of 1,800 marines, 9 heavy tanks and 32 light support vehicles in 25 minutes, slightly less rapidly than the Continent Class vessel. The Makin is produced at the Tellar and Salazaar shipyards, with a combined annual production rate of 14 per year. Of the 68 Makin Class ships built, 64 remain in active service, 1 is used by Star Fleet Training Command, 1 has been destroyed, and 1 has been scrapped.