CLASS NAME: Mackenzie
CLASS TYPE: Frigate
GOVERNMENT: United Federation of Planets

Port
view

Dorsal
view

Bow
view
BRAD'S COMMENTS: Another Jaynz vessel from Gary Perry (re-drawn by Neale Davidson, based on the original.) The Mackenzie looks like a straightforward TOS-era frigate, but the backstory is awfully odd, talking as it does about some kind of Federation splinter group living in the Triangle. In a sense, this backstory seems to be referring to a TOS-era version of the Maquis, though the Federation was hardly an ally of the seperatist Maquis in the same way that the Federation seems to be an ally of this Affiliation of Outer Free Worlds. No matter what, the backstory for this class is as apocryphal as they come, so discard it as a mental plaything, and treat this class like a standard Federation vessel during game play. As always, many thanks to Gary Perry for unearthing this vessel and sending it in.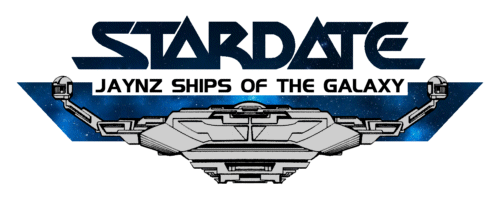 From STARDATE MAGAZINE, December 1986, courtesy of contributor Gary Perry
Class design by Dale L. Kemper
Mackenzie Class IX Frigate
NOTES: The Mackenzie Class is one of the newest and largest group of warships in the Mutual Defense Force of the Affiliation of Outer Free Worlds located in the triangle. Constructed at the extensive Naval Yards located in orbit around the planet of New Aberdeen, the class is largely crewed by personnel of that world, giving these ships a definite Gaelic slant.
The Mackenzie Class was loosely based on the Baker Class Destroyer of the Federation's Starfleet, but are more powerful than the bakers. Most of their components were constructed on the planets of the Affiliation of Outer Free Worlds under license from the UFP. Normally, ships of this size and expense are of proven Starfleet classes, but the design engineers of New Aberdeen wanted to prove that they could indeed design a class totally by themselves. This they have done, and with great success.
The Mackenzie Class frigate is an efficient and well-planned design. Her eight FH-12 phasers are placed on the various quadrants of the ship's saucer, giving an all around field of fire. Two FP-1 photon torpedo tubes offer a punch from both forward and aft. Her superstructure has been reinforced and state of the art deflectors have been installed. Although none of these ships has yet seen combat, their Scottish names and offensive weaponry will surely give a new meaning to the ancient phrase "Big Mac Attack".
Construction Data:
Model Numbers-
Ship Class-
Date Entering Service-

MK I
IX
2/2001
Hull Data:
Superstructure Points-
Damage Chart-
Size
Length-
Width-
Height-
Weight-
Cargo
Cargo Units-
Cargo Capacity-
Landing Capability-

20
C

245.6 meters
112.2 meters
41.4 meters
138,905 tons

180 units
9,000 tons
None
Equipment Data:
Control Computer Type-
Transporters-
Standard 6-person-
Combat 20-person-
Emergency 22-person-
cargo-

unknown

3
none
2
1
Other Data:
Crew-
Troops-
Passengers-
Shuttlecraft-

198
none
unknown
2
Engines and Power Data:
Total Power Units Available-
Movement Point Ratio-
Warp Engine Type-
Number-
Power Units Available-
Stress Charts-
Maximum Safe Cruising Speed-
Emergency Speed-
Impulse Engine Type-
Power Units Available-

44
2/1
FWD-2
2
18
M/G
Warp 6
Warp 8
FIE-2
8
Weapons and Firing Data:
Beam Weapon Type-
Number-
Firing Arcs-
Firing Chart-
Maximum Power-
Damage Modifiers
+3
+2
+1
Missile Weapon Type-
Number-
Firing Arcs-
Firing Chart-
Power To Arm-
Damage-

FH-12
8 in four banks
2f/p, 2f/s, 2a/p, 2a/s
R
6


(1 - 9)
(10 - 16)
FP-1
2
1f, 1a
L
1
10
Shields Data:
Deflector Shield Type-
Shield Point Ratio-
Maximum Shield Power-

FSL
1/3
15
Defense Factor-
Weapon Damage Factor-
142.6 *
37.6 *
* Revised D and WDF factors provided by Curtis R. Williams.