CLASS NAME: Illustrious
CLASS TYPE: Carrier
GOVERNMENT: United Federation of Planets

Port
view

Dorsal
view

Bow
view
BRAD'S COMMENTS: Okay, I just want to say right now that Glenn's fanship is probably the best fanship I have looked at yet. This guy has truly gone the extra mile and produced an extremely attractive vessel. He even has a model(?!) built for it. Amazing! The Illustrious class is different in that it is a carrier designed to tote fighters. Glenn sez he will try and build stats for the fighters at a later time. For now, I find the looks of the illustrious to be very believable. That secondary hull is huge and roomy, with lots of hangar doors on the fore and aft surfaces for spacecraft launch and retrieval. All the parts are in scale too, which gets Glenn extra kudos from me. Saucers and warp nacelles being out of proportion is a huge turn-off to me, especially where fanships are concerned. Glenn also wrote up some good backstory, though it may confuse those fans out there who are not aware of the Kzinti. The Kzinti are an aggressive felinoid race that famed hard SF writer Larry Niven created for his Known Space universe. When one of Larry's stories for Known Space ("The Soft Weapon") got picked up for the short-lived Trek animated series, the Kzinti from the tale were retained as bad guys. Official canon has never acknowledged this, but there are lots of fans who loved the animated series. For myself, I am a voracious Niven reader so I was charmed to see Glenn's references to the Kzinti in the backstory for his superb fanship.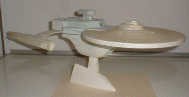 Click the images above to see larger views of the five computer 3D images, and the plastic model!
FANSHIP DESIGN & STATS: Glenn Gagnon, 2002
Illustrious Class XII Strike Carrier
NOTES: Shortly before the events leading to the Genesis Incident, Starfleet noted an increase in the number of outlying colonies and native systems being attacked by small, swift craft. These were often operated by the Kzinti and a few Orion interests. The standard defenses of monitors and corvettes were not effective against these fast-attack craft, and Starfleet's fighter-carriers were too few and too slow to respond in the time needed. A rapid-response light carrier was needed, and the Illustrious-class carrier was the end result. Although not as fast as a Constitution (Enterprise)-class vessel, the Illustrious-class is still far quicker than standard carriers. A wing of up to 47 fighters and auxiliary craft could be brought to a hot zone, where the low-warp-capable fighters could jump into a hostile area while the carrier stood off, usually just outside the system or just out of easy reach of an enemy.
The Illustrious-class is not extremely heavy in armament, just enough for a potent defense. They rely on their fighter contingent for primary defense, along with good shield capabilities. The Illustrious-class is manufactured at the Sol IV (Utopia Planitia) Fleet Yards.
The first operational deployment saw the U.S.S. Illustrious herself becoming the flagship of a 13-vessel task force sent to investigate and prevent incursions by the Kzinti. The Illustrious recovered a near-derelict vessel containing several members of the Kzinti ruling council, victims of a coup engineered by a Romulan splinter group. This group was the driving force behind the Kzinti acquiring cloaking technology for their fighter carriers (or "space-control ships"), thus enabling the daring raids upon several border systems and scientific outposts. The task force was able, after several skirmishes with Kzinti forces, to repatriate the ousted Kzinti leadership, and establish a basis for normalized diplomatic relations approximately a year later.
Of the 12 Illustrious-class vessels commissioned, 11 are on active duty, and one is assigned to Starfleet Training Command.
CLASS NAME: Peregrine
CLASS TYPE: Fighter
GOVERNMENT: United Federation of Planets

Port
view

Dorsal
view

Bow
view
FANSHIP DESIGN & STATS: Glenn Gagnon, 2002
FS-27 Peregrine Class I Fighter
NOTES: In an ever-expanding Federation, the need to spread Starfleet's assets across a wide stretch of space has always been a daunting, difficult, and expensive task. To protect many planets, monitors and corvettes are the order of the day, but their lack of speed (monitors) or lack of armament and power (corvettes) can be a liability in especially-sensitive forward areas.
The FS-27 Peregrine is a low-warp capable two-man fighter that packs a pretty decent punch for a craft of its size. The single 360-degree FH-2A phaser is not a huge gun, but couple it with the forward-firing FP-2 photons and it becomes a pound-for-pound champ.
The FS-27 is most often deployed with fighter wings stationed aboard starbases, defense outposts, and selected carriers such as the Illustrious Class. They can also be carried in the shuttle bays of certain other large starships, as long as they can handle the fighter's overall dimensions and maintenance requirements.
The first action seen by any FS-27 craft was during an attack on a small colony by independent pirates operating out of the Triangle. Outpost 1 received early warning of the attack, and launched 16 FS-27 fighters from their protective wing. The fighters arrived just minutes after the pirates started their attack. The pirates used several outdated scout-type craft sporting jury-rigged weapons; as is common among the denizens of the Triangle. The combined firepower of the FS-27 fighters coupled with the precision formation maneuvers employed by the FS-27 pilots, found the entire motley group of pirates disabled and weaponless within a matter of fifteen minutes.
The Peregrine is manufactured at the Sol III, Salazar, and Cait facilities. Of the 650 A-models built, 463 are on active duty, 75 are in reserve/training squadrons, 25 are test beds for upgrade, and 87 have either been destroyed or scrapped.
Construction Data:
Model Numbers-
Ship Class-
Date Entering Service-
Number Constructed
ILLUSTRIOUS
MK I
XII
2/2406
12
PEREGRINE
A
I
2/2318
650
Hull Data:
Superstructure Points-
Damage Chart-
Size
Length-
Width-
Height-
Weight-
Cargo
Cargo Units-
Cargo Capacity-
Landing Capability-

32
C

330 meters
147 meters
86 meters
198,000 tons

variable
variable
None

2
C

10 meters
7 meters
5 meters
4,900 tons

none
none
Yes
Equipment Data:
Control Computer Type-
Transporters-
Specialized 2-person-
Standard 6-person-
Combat 20-person-
Emergency 22-person-
cargo large-
cargo small-

M-6A


4
1
4
2
1

M-3M

1
Other Data:
Crew-
Air Wing-
Passengers-
Shuttlecraft-
Fighters-

440
150
30
15
32

2 (4, if trainer)
Engines and Power Data:
Total Power Units Available-
Movement Point Ratio-
Warp Engine Type-
Number-
Power Units Available-
Stress Charts-
Maximum Safe Cruising Speed-
Emergency Speed-
Impulse Engine Type-
Power Units Available-

68
5/1
FWG-1
2
26
F/H
Warp 7
Warp 8
FIF-2
16

10
1/1
FMWB
2
4
A/B
Warp 4
Warp 5
FMIB
2
Weapons and Firing Data:
Beam Weapon Type-
Number-
Firing Arcs-
Firing Chart-
Maximum Power-
Damage Modifiers
+3
+2
+1
Beam Weapon Type-
Number-
Firing Arcs-
Firing Chart-
Maximum Power-
Damage Modifiers
+3
+2
+1
Missile Weapon Type-
Number-
Firing Arcs-
Firing Chart-
Power To Arm-
Damage-

FH-11
6 in three banks
2f/p, 2f, 2f/s
Y
10

(1 - 10)
(11 - 17)
(18 - 24)
FH-8
3 in three banks
1pa, 1a, 1s/a
T
5


(1 - 10)
(11 - 18)
FP-4
2
F
S
1
20

FH-2A
1
360-degree arc
H
4



(1 - 10)









FP-2
2
F
H
1
6
Shields Data:
Deflector Shield Type-
Shield Point Ratio-
Maximum Shield Power-

FSP
1/4
16

FSB
1/2
14
Defense Factor-
Weapon Damage Factor-
(classified)
(classified)
(classified)
(classified)
SPECIAL NOTE, PER GLENN: FIGHTER RULES
**-3 To Hit on firing charts
**No "Crew" casualties
(those go to SS or Engine)
**No penalties for evasive
(except for "no firing")