CLASS NAME: Defiant
CLASS TYPE: Advanced Destroyer
GOVERNMENT: United Federation of Planets

Port
view

Dorsal
view

Bow
view
BRAD'S COMMENTS: From the outset, building stats for this DS9-era class was not an easy chore. The Defiant is quite unlike anything ever before seen in the Federation inventory. Roughly the size of a small escort or a large corvette, the Defiant employs tremendously powerful weapons along with tremendously powerful engines. Also, the original prototype that eventually came under the command of Captain Sisko, and saw heavy action against Gamma Quadrant foes such as the Jem-Hadar, was equipped with a cloaking device!
Official text seems to indicate that the cloaking device on the original prototype was a one-time loaner from the Romulans, so it might be argued that one and only one Defiant Class vessel would ever have the ability to cloak. Just the same, it has always been my personal understanding that Starfleet's non-use of cloaking technology is not a matter of can't, but instead just a matter of won't. Recall that Kirk and the original USS Enterprise stole a Romulan cloaking device in the 23rd century, taking it intact back to Starfleet after it successfully tested out on the Constitution Class USS Enterprise itself. Now, unless Federation engineers and scientists are awesomely inept, it stands to reason that Starfleet very soon figured out how the Romulan cloaking technology works. Therefore, it also stands to reason that ever since the Kirk-era, Starfleet has been perfectly capable of building cloaking devices for starships, yet they choose not to use this technology because it flies in the face of Starfleet ethics.
The Jem'Hadar threat seems to have scared Starfleet so silly that the ethic against cloaking technology was suspended, at least for the prototype Defiant. But does this mean that any future Defiant Class ships are also cloak-capable? We have seen in ST:DS9 and ST:VOY that more Defiant Class ships have been built since Sisko originally dragged the prototype Defiant out of mothballs. If the cloaking device on the original was seen as such a necessity when combating advanced foreign threats like the Jem'Hadar, why wouldn't future Defiant Class vessels be similarly equipped?
To make game fans happy, I have therefore built stats for two different kinds of Defiant Class ships, one cloaked and one not cloaked. I have also tried to make the weapons few, but potent, and give this class a good movement point ratio as well as abundant power from the engines. The ship's size easily places it as an escort, but its mission seems to be simply that of and advanced destroyer, so I have grouped it in with the other destroyers as a result. Some fans would no doubt argue with me on this point, but it seems to me to be the most logical decision. The Defiant is definitely not a conventional escort, nor is it underpowered like so many corvette and scout sized ships. The Defiant is a vessel with one and only one purpose in mind: hard, fast attacks on the best the enemy has to offer.
Additional comments on Federation cloaking technology by Michael Hughes - December 2003
...About the defiant... the cloak: The reason the federation never used cloaks was the Treaty of Algeron (sp). It was the treaty that ended the Fed-Rom war, which the romulans demanded that the federation could not develop Cloaking technology. This is refrenced in the TNG episode where they search for the USS Pegasus, an Oberth class research vessel that was testing a Phased cloking device (cloaked the ship, AND allowed it to move through normal matter). Picard mentions it.
Official ship history, as copied from an article originally seen at STARTREK.COM
Never in the proud history of Starfleet has there ever been a starship with the look or evolution to compare with that of the U.S.S. Defiant — the acknowledged first warship ever built by the Federation's defense and exploration forces.
With its compact design, tucked-in nacelles and bristling weapons array, the Defiant was a radical experiment borne of the rush to counter the sudden Borg threat of 2365-66. If anything, Starfleet's massacre by the Borg at the Battle of Wolf 359 late in 2366 showed the dire need for starships far more nimble and tough than the design lineage of most Federation ships. Most importantly, the Borg's deadly tractor-beam attack required a target far smaller than Starfleet's traditional profile of a large primary hull and warp nacelles atop standoff pylons.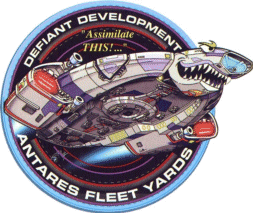 Commander Benjamin Sisko, one of the battle survivors of Wolf 359, initially oversaw the experimental Defiant project at Utopia Planitia as the prototype was rushed into design and construction in just five years. Officially listed as an escort, the otherwise secret program achieved its design and performance goals with a radical change in Starfleet philosophy: its four decks were absent any hint of family quarters or extensive science labs — although sensor and analysis support is more than thorough to support the defense mission. Rather than the familiar Type X phaser strips, the Defiant featured non-traditional pulse phaser cannons; to save space, its meager two shuttles, later upgraded to three, employed small drop-ship shuttlebays instead of a traditional hangar deck. Austere space allowances, including bunk-like personal cabins and compressed facilities all around, were the rule.
Starfleet engineers soon realized, however, that they did their job almost too well after the Defiant was launched on Stardate 47538.5 for its shakedown cruise from the Antares Shipyards, carrying prototype registry NX-74205. For all its weaponry and toughness, the ship soon proved to be overgunned and overpowered for its design; in fact, the ship nearly tore itself apart in full-power performance tests. But no sooner had the project been abandoned for a fresh approach than galactic events caused a rethink of that decision in late 2370: the looming hostility with the mysterious Dominion of the Gamma Quadrant and its Jem'Hadar super-soldiers.
In fact, official first contact with the Dominion in late 2170 proved so ominous that the ship was pulled from mothballs by none other than its onetime overseer, Sisko — now in command at Deep Space Nine, where the nearby Bajoran wormhole had opened up contact with the Dominion in the first place. The station, previously defended by only three Danube-class Runabouts, was increasingly at the crossroads of galactic tensions and its commander wanted more muscle to handle any contingency.
Following Sisko's surprise return to DS9 with the Defiant after the Dominion invasion threats in early 2371, the ship was plunged into a host of duties while based at the station. For its covert and combat missions, the Defiant was destined to stand out in Starfleet lore in yet another way: it would be the first ship of the line ever outfitted with a cloaking device. Thanks to its similar perception of the Dominion threat, the Romulan Star Empire took the incredible step of loaning a cloaking system to Starfleet for the Defiant in return for shared intelligence, initially posting Sub-Commander T'Rul as part of the loan to oversee its use and security.
Even so, the "tough little ship" was still far from refined, and would receive numerous on-the-job upgrades and tweaks, largely under the oversight of DS9 Operations Chief Miles O'Brien. In fact, in its first encounter with Jem'Hadar ships during a mission to meet the Dominion's Founders only days after arrival at the station, the ship was easily overtaken in battle; it was later hijacked for a time to Cardassian space by a Maquis cell led by Tom Riker, the "twin" of Commander William T. Riker. A hull upgrade to durable ablative armor was soon in place, withstanding severe weapons fire for nearly two minutes even when unshielded; unreported to Starfleet initially, this proved key in disrupting the would-be military coup of Admiral Thomas Leyton on Earth in 2372. Still, even during the Dominion War after years in service, the ship could not make its potential Warp Factor 9.5 speed, or any speed above Warp 9, without tapping spare power reserves to reinforce the structural integrity field.
The Defiant's hard-luck situation soon changed, though. Thanks to the tactical integration of its cloak, the ship rescued Major Kira Nerys from capture on Cardassia Prime itself in 2371, retrieved staff trapped amid the Dominion's massacre of a failed Romulan-Cardassian armada against the Founder's homeworld, and saved the Deteppa Council members from Klingon invasion and capture in 2372, during the Cardassian Union's short-lived civilian government. Its durability was further confirmed when, after an interrupted trade mission to the Karemma, the ship took refuge in the corona of a gas-giant planet by modifying its shielding and outfought pursuing Jem'Hadar attack ships while inside.
And, despite the sabotage of a massive cascade computer virus implanted by Maquis leader Michael Eddington that left Defiant dead in space, the crew set out in their ship only days later to capture him — and did — with less than full computer control, a top speed of Warp 6, manually-targeted weapons, and no internal communications, cloak, transporters, and replicators.
Though armed for bear, the Defiant did find time for use on several science and diplomatic assignments earlier in the pre-war 2370s. The ship discovered dimension-straddling planet Meridian in the Trialus system, and studied a subspace inversion in the Bajoran wormhole as well as an nearby subspace compression effect. The crew also assisted a Trill team testing the creation of an artificial wormhole, and aided in the launch of a planned Cardassian-Bajoran subspace relay on the far side of the wormhole.
During its time, so to speak, the Defiant was also involved in three bizarre temporal incidents. En route to Earth for a symposium on Gamma Quadrant affairs in 2373, a chroniton buildup produced localized temporal distortions that sent the ship and crew to the year 2124, on the eve of the Bell Riots on Earth. Later, a Klingon spy's unauthorized use of the Bajoran Orb of Time while aboard sent the ship to 2267 as part of a plot to kill history's James T. Kirk. And, during the Dominion War, an otherwise routine recon mission turned surreal at Gaia when the crew encountered their own descendants, borne of survivors from a crash-landing after a temporal accident sent their ship back some two centuries. In the mainstream observable timeline, the effects of all three incursions were reversed and negated.
But it was the Dominion War and the tensions leading up to it that contributed the most storied chapters in the Defiant's saga. Oddly, the ship's early record at DS9 was marked by a joint venture with Dominion forces to put down rebel Jem'Hadar who had seized an ancient Iconian gateway on Vandros IV in the Gamma Quadrant, threatening even their own masters. Mutual mistrust barely allowed the Federation-Dominion operation to succeed, and unfortunately never again would there even be a hint of cooperation between the two sides.
More typical in pre-war years would be missions such as the late 2371 diplomatic flight to a supposedly destabilized Tzenketh — a ruse later unmasked as Founder sabotage to spark an unintended war. Or the salvage mission to retrieve a downed Jem'Hadar attack ship in 2373 from Torga IV that would prove to be a covert godsend when war did break out late that year.
The Dominion/Cardassian invasion that marked the war's opening volley included the capture of DS9 and its joint operation with a newly neutral Bajor for nearly three months. Initially the Defiant had bought valuable time by laying self-replicating mines at the exit of the wormhole to prevent Dominion reinforcements from arriving, but as part of the Second Fleet the new year began for the Defiant with a series of discouraging skirmishes and retreats that left Federation morale low.
That period ended when Sisko developed a bold plan, "Operation Return," to retake the station as the first key to overall comeback. Even though the timetable had to be stepped up without many expected ships or Klingon help, his own Defiant and tactics played a key role with a risky breakthrough in the Dominion lines and run to DS9, aided by late Klingon help. Even so, with the minefield at last cleared it was only intervention by the non-linear Prophet aliens worshipped by Bajorans that kept the Dominion reinforcements at bay; Sisko and his crew had been ready to take them on in a suicide mission in the wormhole. Instead, retaking DS9 led to the Defiant's reassignment to the Ninth Fleet, which was then based at the station for the duration of the war.
Throughout its posting at DS9, the Defiant had remained under the direct command of Captain Sisko. However, in his absence, the ship was captained by Lieutenant Commander Worf, Sisko's Strategic Operations Officer at DS9 from 2372-2375. Starfleet's only Klingon officer commanded the Defiant when it forced the U.S.S. Lakota to stand down from backing Leyton's failed coup of 2372, and he was exonerated when falsely accused of recklessly firing on Klingon civilians on convoy escort duty, during brief tensions with his homeworld only months later.
Worf was in the captain's chair too when the Defiant got the chance to take on its intended adversary during the Borg incursion of 2373, proving its rapid fire guns and low-profile silhouette were as effective as planned. Though severely damaged and actually abandoned during the Typhon Sector battle, the ship survived the conflict after its captain and remaining crew were picked up by the U.S.S. Enterprise-E; it returned to service at DS9 in record time.
The lone exception to Sisko's captaincy came with his wartime reassignment to Starbase 375 during DS9's occupation. With Worf serving with General Martok at the same time, Lieutenant Commander Jadzia Dax provided operational command for combat missions — including the destruction of the Dominion's sensor array in the Argolis Cluster. (Major Kira Nerys, Sisko's Bajoran first officer on DS9, had also previously led the Defiant during missions in Bajoran space, as when hunting and destroying Klingon mines laid there.)
By war's outbreak, the Defiant design had proved its mettle well enough to Starfleet to go into production. Two vessels of the new family joined a Nebula-class starship in retaking the Prometheus multi-vector prototype attack ship from Romulan capture in 2373. The cadet trainer U.S.S. Valiant NCC-74210, proved infamous when it was caught behind the lines at war's outbreak and its trainees filled in for its dead seven officers for eight months until they too perished in combat in 2374. Even a duplicate of the original ship, built from plans stolen from DS9 by "Smiley" O'Brien, is assembled in time by his Terran rebels of the mirror universe to free their Terok Nor station from the oppressive Klingon-Cardassian Alliance of that dimension.
But perhaps the most unusual production craft of this already unusual lineage was the U.S.S. Sao Paulo NCC-75633. In the darkest hours of the Dominion War, when the surprise entry of the Breen nearly wiped out Allied fleets with a new energy-damping weapon during the disastrous Second Battle of Chin'toka, the gallant Defiant had to be abandoned along with dozens of others. Only a few months later, as a replacement for Sisko's command — and as practically a personal favor from Admiral Bill Ross — the same-class Sao Paulo was fully renamed and renumbered as an all-new U.S.S. Defiant. Despite going into production as a standard design, its experimental "NX" designation was never officially changed — even on this replacement.
This ship went on to honor its namesake in its very first engagement, the extended Battle of Cardassia Prime that ended the Dominion War — thanks to shield modulation routines fleetwide that countered the new Breen advantage. In fact, it was Sisko's Defiant that led the flanking maneuver in the first phase of the battle, along the Cardassian border, and then fought through to Cardassia itself once Dominion forces fell back there.
As the tumultuous postwar years unfold and peace and exploration again flourish, the unique offensive niche served by the Defiant and its class ships in Starfleet's arsenal will hopefully be far from crucial. Still, the ships have a lot of life left — and a lot of lessons — for all future starship designers and tacticians. For the Defiant itself, neither the loss of Captain Sisko to be among the Prophet aliens nor the promotion of now-Col. Kira to command DS9 has altered the "tough little ship" or its posting.
Construction Data:
Model Numbers-
Ship Class-
Date Entering Service-
Number Constructed

I
V
2370 A.D.
(classified)

II
V
2372 A.D.
(classified)
Hull Data:
Superstructure Points-
Damage Chart-
Size
Length-
Width-
Height-
Weight-
Cargo
Cargo Units-
Cargo Capacity-
Landing Capability-

38
C

130 - 170 meters?
95 - 120 meters?
20 - 40 meters?
50,000+ tons

10 units
500 tons
yes

40
C

130 - 170 meters?
95 - 120 meters?
20 - 40 meters?
50,000+ tons

10 units
500 tons
yes
Equipment Data:
Control Computer Type-
Transporters:
Standard 6-person-
Cloaking Device-
Power to energize-

DCAX-1

2
DCD-1XA
75

DCAX-1

2
none!
Other Data:
Crew-
Passengers-
Shuttlepods-

47
none
4

47
none
4
Engines and Power Data:
Total Power Units Available-
Movement Point Ratio-
Warp Engine Type-
Number-
Power Units Available-
Stress Charts-
Maximum Safe Cruising Speed-
Emergency Speed-
Impulse Engine Type-
Power Units Available-

100
2/1
FXMW-2
2
40
D/E
Warp 8
Warp 9.9
FNIS-120
20

107
2/1
FXMW-2
2
40
D/E
Warp 8
Warp 9.9
FNIS-210
27
Weapons and Firing Data:
Beam Weapon Type-
Number-
Firing Arcs-
Firing Chart-
Maximum Power- **
Damage Modifiers
+3
+2
+1
Beam Weapon Type-
Number-
Firing Arcs-
Firing Chart-
Maximum Power-
Damage Modifiers
+3
+2
+1
Missile Weapon Type-
Number-
Firing Arcs-
Firing Chart-
Power To Arm-
Damage-
Missile Weapon Type-
Number-
Firing Arcs-
Firing Chart-
Power To Arm-
Damage-

Pulse Phasers
4 in two banks
2f/p, 2f/s
U
x2, 15

(1 - 10)
(11 - 17)
(18 - 24)
FAHW-28
4
1f, 1p, 1s, 1a
X
20

(1 - 10)
(11 - 16)
(17 - 22)
FP-17
2
1f, 1a
X
3
27
FQT-8
2
F
Y
5
38

Pulse Phasers
4 in two banks
2f/p, 2f/s
U
x2, 15

(1 - 10)
(11 - 17)
(18 - 24)
FAHW-31
4
1f, 1p, 1s, 1a
Y
23

(1 - 11)
(12 - 18)
(19 - 24)
FP-17
2
1f, 1a
X
3
27
FQT-8
2
F
Y
5
38
Shields Data:
Deflector Shield Type-
Shield Point Ratio-
Maximum Shield Power-

NGSS-O
1/5
30

NGSS-P
1/5
35
Defense Factor-
Weapon Damage Factor-
(classified)
(classified)
(classified)
(classified)
* Denotes completely hypothetical model number and stats, devised by Brad R. Torgersen.
** The Pulse Phasers were an interesting problem, in that they are assumed to be radically more powerful than your ordinary phasers. When applied to the STSSTCS gaming system, it would seem to me that the most straightforward way to do this would be to afford the Pulse Phasers a power-to-damage ratio making them inherently more potent than standard phasers. The "x 2" in the maximum power listing indicates that whatever energy is dumped into the Pulse Phasers during the game, the damage done is at least double the amount allocated. For instance, if you charge one Pulse Phaser with 6 points of energy, when that weapon is fired it will inflict 12 points of damage on a direct hit; two times as much as an ordinary phaser. And that's even before we figure in damage modifiers for range. The "15" after the comma indicates that the total maximum power any Pulse Phaser can be charged to is 15 energy points, for a total of 30 damage points, excluding range modifiers. I hope this makes sense, and if not, let me know.