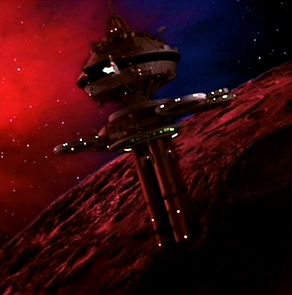 BRAD'S COMMENTS: The model for this station first appeared in ST:TMP but would later be resurrected in a modified form for Star Trek II, as well as making cameos in episodes of ST:TNG. Like the Earth Spacedock, the R-1's exact scale has been cast in doubt by its use (overuse?) in the various films and on television, appearing alongside various spacecraft of different size. By some accounts the station is smallish, not much larger than a Constitution Class cruiser. But if the TNG-era footage is to be believed, then the R-1 is on the same scale as a Galaxy Class. Explanation? It could be reasoned that there were many different space stations constructed in the same mold as the R-1, only of different sizes, much like the Klingon 'Bird of Prey' series. Also, is the R-1 closer in mission to the unarmed version of the Earth Spacedock, or is it more like the Alamo Defense Outpost, intended to act as a weapons platform instead of a true space station? My copy of the STSSTCS does not give any background data on the R-1, though the Regula-1 Orbital Station Deckplans resource booklet indicates that there are a total of 8 major variants of the basic R-1, each designed to fulfill a specific mission requirement.
I have included as much detail on these 8 variants as is pertinent to gameplay, but have not replicated the entire sourcebook verbatim, as I don't want to waste time or server space on high-res graphics or extensive text detailing the internal functions of the station.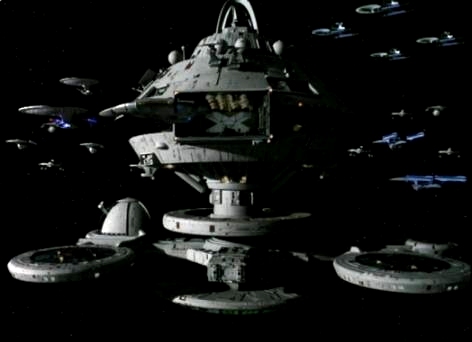 As with the Alamo, it is a matter of some debate among gamers whether or not the R-1 is capable of acting as a repair/resupply facility for starships. Certainly the Spacedock is capable of repairing scads of ships, if not outright building them from scratch. But to me the R-1 seems too small to act as a full-on repair base, lacking the equipment and the manpower of Spacedock or a mobile repair facility like the Pearl MRF. Though, in its original form from ST:TMP, the R-1 certainly seems to be a companion component for the many "bird cage" starship construction platforms that orbit Earth (and presumably many other worlds in the Federation, too). Scotty worked aboard an R-1 during the TMP-era refit of the USS Enterprise; presumably it was a modified R-1 Administrator variant.
In terms of gameplay, only three of the eight variants are armed, with the remaining five possessing not even rudimentary combat shielding. All of the variants have a limited movement point ratio, though this ought to be considered impulse-style movement only, as the text specifically states that none of the R-1 stations has warp capability. For warp-speed travel, there is a specially created towing ship, the Samson class, dedicated specifically to moving R-1's to and fro across the Federation. Unfortunately, this class is never seen on film, and may be considered part of the apocryphal line of ships from FASA.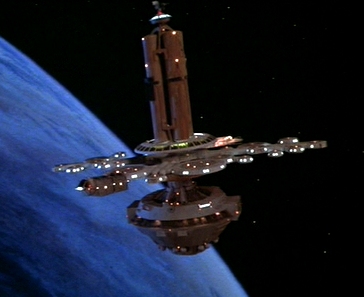 R-1 OVERVIEW, from the FASA Star Trek RPG sourcebook #2226A: Regula-1 Orbital Station Deckplans
The R-1 Type orbital station was designed to meet the growing need for such a facility among the scientific, civilian, and military sectors. On Stardate 2/01, Starfleet Command petitioned the Federation Council to request bids to replace the older K-type support stations, which were used primarily as trade centers and way-stations between distant points of call. At the same time, the Federationís scientific community was lobbying for observation platforms to study astronomical and astrophysical phenomena such as the Murisaki Quasar and the Tritonian Comet Cloud.
These divergent appeals spurred Rantura Shipping and Chiokis Starship engineers to draft blueprints for a modular station system capable of fulfilling both roles. The first type, designated the R-1 Investigator, was constructed to study the impending effects of the Lyra Niobe nova. Soon there after, Starfleet Command commissioned many orbital defense outposts (R-1 Invictus stations) to reinforce fleet units stationed near sensitive border regions. Although most of these stations are currently positioned along the Organian and Romulan Neutral Zones, the infamous V'ger Incident spurred the Federation Council to supplement Terran defense systems with three new R-1 Invictus orbital outposts.
Five years after the introduction of the Invictus, Chiokis Starship and Rantura shipping began producing a second variant, which allowed manufacturing and industrial refinement operations to function in a zero-g environment. This design, called the R-1 Artisan, quickly became one of the most profitable concerns for Chiokis and Rantura.
The R-1 Administrator has proven itself the most versatile of all the R-1 variants. Conceived originally as an administrative center, this design has served as apartment complexes, diplomatic conference centers, corporate head quarters, and governmental records repositories.
As tensions increased between the United Federation of Planets and the Klingon Empire, Starfleet Command began clamoring for intelligence posts to observe enemy military maneuvers and to coordinate intelligence operations within foreign space (such as Operation Dixie). Thus was the R-1 Informant variant created. In addition to conducting discreet intelligence-gathering operations, these stations employ surveillance drones and long-range sensor systems to obtain information. Thirty such listening posts have been constructed.
A radical departure from previous variants, the R-1 Harmony variant was produced to improve relations between the Federation and the Orion Colonies and to net a high financial return. With the approval of the Federation Bureau of Interstellar Trade, a group of Orion corporations purchased the first R-1 Harmony Type (called the Treasure Trove 1). Situated on the border between the UFP and the Orion Colonies, this exclusive recreation and gambling complex provides wealthy clientele with a variety of entertainment and recreational opportunities found nowhere else in the galaxy. Impressed by the vast profit collected during the stationís first two years of operation, the Leeper-Fell corporate conglomerate purchased the second R-1 Harmony Type station, the Centauri Pleasureplex 1, and situated it in the Al Rijil system.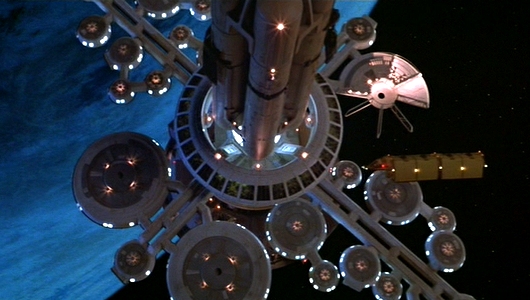 The R-1 Mercy varaint serves a more practical purpose. This orbital platform can provide extensive medical care to far-flung regions of space, where a medical disaster would otherwise take thousands of lives. Already this design has proven its effectiveness by stemming an outbreak of Rigellian blood fever in the Cheron star system.
Though specific design data is classified, the R-1 Terminus variant is probably an orbital confinement center used to detain and interrogate intelligence agents and other undesirables caught within Federation space. Information on the Terminus design is considered top secret and distributed on a need-to-know basis only.
The major reason for the R-1ís success is its versatility. Although stations are constructed for a specific purpose, they are not limited to this objective. In an emergency, any of the stationís 120 separate modular components can be quickly refitted or reconfigured at a star base or repair facility, giving the station a completely different function.
Whether originating from private, governmental, or civilian concerns, proposals for the construction of an R-1 Type station must be approved by the Secretary of Starfleet, as Starfleet must pay the majority of the costs involved (estimated at somewhere in excess of 17 billion credits). Starfleet Command owns and is wholly responsible for the operation of Invictus and Informant Type stations. All other station designs are owned either by individual corporations (who finance most, but not all, the costs incurred) or leased out by Starfleet to private institutions under long-term agreements. In all cases, however, Starfleet Command transports the facility to its operational position. The Department of Starfleet receives an annual fee for providing vessels (warp tenders, supply ships, and so on), which is calculated according to the specific vessel class. In addition, corporations or private industries using Artisan or Administrator variant stations must pay Starfleet an annual two percent of gross profits from station production. Likewise, an additional one percent of all goods manufactured on any R-1 Type stations are allocated to the Starfleet Office of Colonization to support and encourage new colonies.
Since the introduction of the first R-1 station, four have been lost. Three of these were Invictus variant border outposts and the fourth, the Othello 1, was an Investigator Type research installation. The Othello I was destroyed on Stardate 2/2012, while station personnel were engaged in a classified research project for Star Fleet Command. Though unconfirmed, rumors suggest that the Othello I was conducting experiments with protomatter, and a machine malfunction might have caused a prototype Genesis Device to explode. Although long-range sensor scans did detect an unusual amount of radiation in the Othello I's last-known position, the rescue team found no survivors nor any trace of the station itself.
Negligence caused the destruction of Delense Outpost 665. On Stardate 2/1704.05, a class from Star Fleet Academy was participating in a weapons status check when a cadet accidentally triggered an overload in one of the stationís phaser banks. Before the bank could be deactivated, a chain-reaction explosion destroyed over half the station. Since then, Starfleet training groups have been forbidden from participating in any exercise aboard defense outposts.
The circumstances behind the loss of Delense Outposts 524 and 573 remain classified. What is known is that they operated along the Federation border near the Triangle Zone, receiving orders from Star Base 10, and were lost at about the same time.
STATION NOTES: R-1 INVICTUS
The mission of the Invictus-type orbital defense outpost is to provide defensive support for installations and planetary systems and to serve as an early-warning post able to withstand a low to moderate-level incursion by enemy forces. It is one of the few R-1 type stations that mounts weaponry.
STATION NOTES: R-1 INFORMANT
The R-1 Informant deep-space surveillance center is assigned to gather, analyze, and evaluate intelligence for Starfleet Intelligence Command. Positioned along border regions, these stations contain sophisticated computer systems capable of monitoring enemy ship movements, data transmissions, and natural phenomena, as well as broadcasting counterintelligence and conducting electronic warfare operations.
STATION NOTES: R-1 TERMINUS
The R-1 Terminus orbital penal installation was built to confine foreign agents and hard-core criminals captured within Federation space. Though Federation authorities deny it, enemy operatives are probably taken to these maximum security institutions for interrogation and processing. A security zone, possibly as wide as one thousand kilometers, surrounds the installations. Scorpio Class corvettes and armed shuttlecraft patrol this zone and attack any intruders. The station's crew is a combination of Starfleet Marine and Intelligence personnel, with some scientific and medical staff. Admission to these confinement installations requires priority clearance in advance from the Department of Starfleet.
STATION NOTES: R-1 INVESTIGATOR
The R-1 Investigator orbital research station enables scientists to pursue research in secrecy and far from support installations. Designed to provide maximum comfort and utility for both research staff and support personnel, the R-1 Investigator can operate for up to 18 months without re-supply. Traditionally, the stations are named after the planet they orbit; e.g., Lyrae Nicbe 1, Regula 1, and Vulcan 1.
STATION NOTES: R-1 ARTISAN
Allowing industrial, medicinal, and biological goods to be manufactured under gravity-controlled conditions, R-1 Artisan orbital manufacturing centers can supplement planet-side factories or act as independent concerns.
STATION NOTES: R-1 ADMINISTRATOR
Clearly the most versatile R-1 design, the R-1 Administrator orbital administrative center functions as accommodations and centralized administrative headquarters for both private and government organizations. Since its inception, this variant has been adapted to provide luxury housing, and to secure historical and governmental documents. Starfleet Command owns all administrative complexes and leases them to developers, who offer the office, living, and dining accommodations to business clientele. The housing development center furnishes luxury accommodations for visiting businessmen who find the local planetary conditions too harsh or the housing facilities inadequate.
STATION NOTES: R-1 HARMONY
The R-1 Harmony recreational facility provides a wide spectrum of entertainment opportunities for tourists from all over the Federation. The stationís living accommodations make the Harmony a popular vacation spot and cultural exchange point.
STATION NOTES: R-1 MERCY
The R-1 Mercy orbital medical center functions both as a research center for medicine and xenobiology, and as a hospital for treating medical emergencies in the far-flung regions of Federation space. In time of war, these stations can operate just behind the frontlines, allowing medical personnel to treat the maximum number of wounded in the shortest possible time.